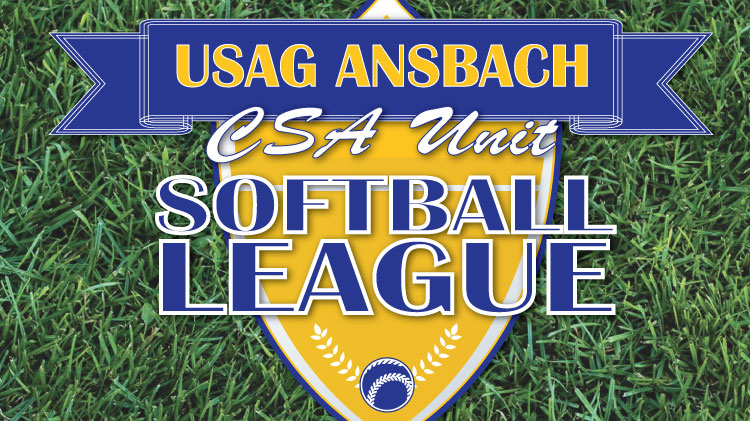 2017 USAG Ansbach Unit Level Softball League
Date: Jun 22, 5:30 p.m. - 7:30 p.m.
Katterbach Fitness Center - bundestrasse 14 sachsen bei ansbach 91623 Google Map
2017 USAG Ansbach Unit Level Softball League (16 May – 27 July 2017)
What: USAG Ansbach Unit Level Softball League
When: Tuesday, 16 May 2017 – Starting at 1730
Who: US ID card Holders 18 Years and above & out of HS
Where: Games will be played at Katterbach Adult Softball Field
USAG Ansbach Championship Game: Thursday, 27 July 2017 (Katterbach Softball Field)
Clinic: There will be a clinic to certify the umpires and scorebook keepers from 3-5 May at Von Steuben - Bismarck Kaserne). It is FREE to all participants wishing to take part.
Pre-season Softball Tournament: This is scheduled for Saturday, 6 May 2017 at the Katterbach Adult Softball Field starting at 1000-1700. A minimum of 4 teams is required to have the tournament. The tournament shall be used to assess attendees from the clinic.
Coach's Meeting:
Where: Katterbach Fitness Center
When: Thursday, 11 May 2017 (@1730)
AAA-162 Must be turned in NLT 11 May (Must be signed by the 1SG or Unit Commander)
Team Rosters are due at the Coach's meeting
IMCOM Europe Region Championship: 4-6 August (Venue TBA)
Cost
* FREE for all aspiring units teams within the community of Ansbach
Registration Info
* Units intending to participate in the league must submit a letter of intent.
* The AAA-162 is required before the season starts.
* Team Captains must attend the coach's meeting on 11 May at Katterbach Fitness Center.
* Units may register up to 2 teams.
* Only U.S. ID card holders, 18 years above and out of high school.
Contact